Oud lessons in Montreal and around the world. To book an Oud lesson with Wassim, either online lesson via Skype or in-person in his studio in Montreal please visit this page
---
Wassim Njeim est un musicien, auteur de livre de musique et joueur de Oud experimenté avec plus de 25 ans d'experience dans le domaine. Wassim enseigne le Oud à Montréal depuis plus de 17 ans.
Wassim Njeim vous offre des cours de Oud en ligne via Skype.
Wassim Njeim is now offering Online Oud lessons via Skype. Wherever you are around the world, you can now learn Oud from your own home!
تدريس آلة العود عبر سكايب ( أو واتساب أو مسنجر) إلى مختلف أرجاء العالم
Private Oud lessons in person at Wassim Njeim's music studio in Montreal - Cours de Oud en personne au studio de musique de Wassim Njeim à Montréal - دروس خصوصية لآلة العود في مونتريال
---
Wassim Njeim offre des cours d'Oud pour tous les niveaux et tous les âges à son studio à Montréal.
Vous apprendrez la théorie et la pratique de la musique arabe avec toutes ses formes et ses gammes (Maqam / Maqamat)

Vous apprendrez les bases de la musique, la théorie ainsi que le

solfège avancé avec toutes les formes rythmiques de la musique.

Vous apprendrez le language musical, le vocabulaire, ainsi comment bien compter en lisant la musique.

Exercices de Risha et techniques diverses de risha/plectre.

Exercices techniques de tous les niveaux sur le Oud.

Des leçons basées sur des morceaux de musique académiques (Bashraf, Samaii, Longa, etc) ainsi que des chansons populaires.

Les partitions musicales et copies des exercices sont incluses dans les cours.
Veuillez-me contacter pour plus d'information: 514-574-0690
---
Wassim is a musician, an author of a music book and an Oud player with more than 25 years of experience. Wassim has been an Oud teacher in Montreal for more than 17 years.
Wassim Njeim offers Oud ('Ud) lessons for all levels and ages at his studio in Montreal.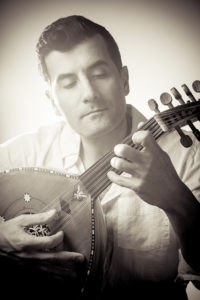 You will learn Arabic music theory (Maqamat) and practice it on Oud

You will learn the basics of music, the music theory as well as the reading of music.

You will learn the vocabulary, the musical language, all forms of musical rhythms, as well as how to count properly while playing.

Oud and Risha techniques: Movement and plucking the Oud. Basic and advanced techniques.

Lessons based on traditional and academic music pieces (Bashraf, Samaii, Longa, etc) as well as popular songs.

Sheet music and copies of the exercises are included in the lessons.
Please contact me for more information: 514-574-0690
---
- J'offre mes services en français.
- I offer my services in English.
- نقدم لكم الخدمة باللغة العربية
Veuillez me contacter au 514-574-0690
You may reach me at 514-574-0690
Error: Contact form not found.